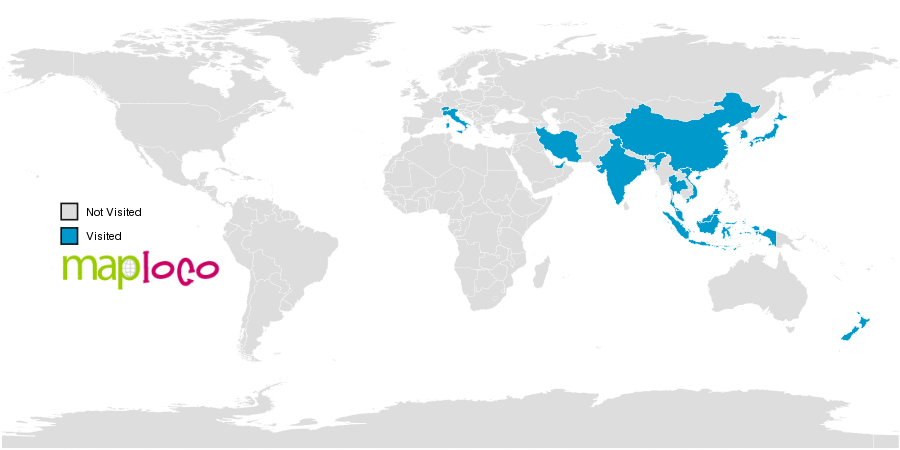 Create Your Own Visited Countries Map
My top 20 travel wishlist:
Makkah/Madinah – Insyallah one fine day I'll be here. Ameen..
South Korea – 

DONE! 

Alhamdulillah to date aku dah pergi sebanyak 5 kali since 2012. Setahun at least sekali. South Korea terlalu istimewa katanya especially Yong Pyong.

Japan

– 

DONE! 

Alhamdulillah.. dapat jugak sampai ke Yamagata melihat Snow Monsters! terutamanya Yamagata yang terkenal dengan Snow Monsters di Zao Onsen itu. Insyallah kalau jadi in winter January 2016.

Italy

– 

DONE! 

especially Florence, Verona & Sienna. Bahana tengok filem Letters to Juliet! Insyallah kalau jadi in October 2015

. Alhamdulillah tercapai!
Turkey – sungguh tidak terjebak dengan mana2 pengaruh drama/filem Melayu. But Cappadocia dengan Pamukkale tu sungguh memukau.
Iceland – terkesima tengok Blue Lagoonnya.
Kashmir – terutamanya Sonamarg dan Gulmarg. Bila dengar lagu Hindi mesti dalam kepala terbayang-bayang pemandangan kaki gunung di kawasan ni.
Sontorini, Greece – those white building with blue dome.. mengadap laut. Wow!!!
Europe – London & Paris especially.
Netherlands – I bet masa spring mesti best dengan tulipnya yang sedang kembang itu.
Maldives – white sandy beaches and crystal clear water.
Nepal – especially Pokhara yang mengadap banjaran Himalaya.
Lebanon – antara negara Arab yang aku teringin nak pergi. Beirut, Baalbeck dan Pigeon's Rock antara tempat-tempat yang dah masuk dalam list aku kalau ke sini.
Lombok, Indonesia – The Gili Islands.. 

DONE!

 In May 2016. Kena repeat lagi sebab Lombok banyak tempat yang cantik.
Beijing, China – Great Wall of China
Agra, India – Taj Mahal and its surroundings.

New Zealand

–

DONE!

Roadtrip with my sis in March 2014.
Bali, Indonesia – 

DONE!

 Erol's birthday in July 2014.
Sapporo, Japan – Katanya the best place during winter.
Hitachi Seaside Park, Japan – spring di sini! With all those colorful flowers.
Yang ni tak masuk pun dalam wishlist, tapi pergi gaks:
Chennai, India

–

DONE!

Pergi atas urusan kerja.

Abu Dhabi, Dubai & Sharjah, UAE

–

DONE!

Juga pergi atas urusan kerja in 2006 & transit during my Italy trip October 2015.

Singapore

– 

DONE!

 Seberang tambak jerrr..
Shenzhen & Guangzhou, China – 

DONE!

 In 2009.

Bangkok, Thailand

 – 

DONE!

 In 2009.
Hong Kong – 

DONE!

 Last year 2014 in September.
Chiangmai, Thailand –

DONE!

Company Family Day in 2007.
Phuket, Thailand – 

DONE!

 Celebrate Firr's birthday in 2013.

Krabi, Thailand

– 

DONE!

 Rubie's Family Day in May 2013.
Ho Chi Minh, Vietnam – 

DONE!

 Celebrate Jihan's birthday in April 2013.
Bandung, Indonesia – 

DONE!

 Twice in 2009 & 2011.
Yogjakarta, Indonesia – 

DONE!

 Twice; Jihan's birthday in 2011 & with the Aspura in 2013.

Switzerland

– 

DONE!

 Walaupun sekadar melepasi border pergi ke Foxtown Outlet tu masa Italy trip October 2015 haritu, aku tetap nak propa dah jejak bumi Swiss ni. Insyallah one day boleh visit yang betul-betul punya.

Iran

–

DONE!

Tak sangka boleh termasuk dalam list ni. I think I had the best winter experience here in Dizin berbanding dengan Japan dan South Korea sebelum ni.
So, ada sesiapa yang baik hati nak belanja aku??? Hahaha… Anyway, meh kita layan gambar-gambar dalam wishlist aku ni untuk berangan..